Dr. Jessica Wendling
Seattle Met Top Doctor 2019
by Seattle Met Magazine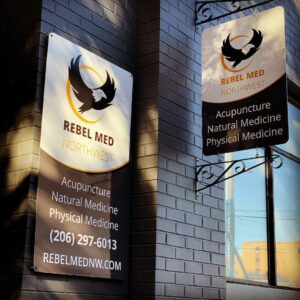 Rebel Med Northwest is excited to announce that Dr. Jessica Wendling was voted Seattle's Top Doctor of 2019. She was awarded this title with recognition from her peers in the greater medical community and will be featured in the August 2019 issue of Seattle Met Magazine.
Rebel Med Northwest has seen tremendous growth since Dr. Jessica Wendling joined in 2017. She provides a variety of therapies including adjunctive autoimmune care, mind body medicine, and therapeutic bodywork including craniosacral therapy. She specializes in LENS neurofeedback, helping to retrain the brain and enhance function of the nervous system. This therapy treats clients with anxiety, depression, PTSD, ADHD, etc., along with more physical symptoms such as pain, headaches, migraines, seizures, and other physical disorders resulting from concussion or head injuries. Dr. Wendling also co-founded Red Cedar Botanicals, an herbal medicine company, and is launching her first line of products in subscription kits geared towards women's health.
This is the first year that two physicians at Rebel Med Northwest have won the award of Top Doctor. She has earned this prestigious title along with her colleague and mentor, Dr. Andrew Simon, who will also be receiving the honor this year.
We'd like to thank everyone who submitted votes on behalf of Dr. Jessica Wendling to Seattle Met Magazine for the 2019 Top Doctor award. The Rebel Med Northwest team has thoroughly enjoyed having Dr. Wendling provide her specialized skills to the local Ballard and Greater Seattle communities.
Interested in becoming a patient of Dr. Jessica Wendling? Set up a free 10 minute phone call, or come into the office for a meet and greet located in old Ballard across the street from the Olympic Athletic Club. You may also set up your first appointment by using our online scheduling system.
Dr. Jessica Wendling has been a physician of Rebel Med Northwest since 2017 located in downtown Ballard historic neighborhood of Seattle. Dr. Jessica Wendling specializes in naturopathic care, autoimmune health conditions, and LENS Neurofeedback to help address mental health and lifestyle changes. She uses sustainable forms of medicine to manage health and empower her patients. Dr. Jessica Wendling is passionate about finding an integrative approach to health for her patients by using traditional research and evidence based medicine, along with other therapies that calm the nervous system, improve overall well being, and enhance resilience to everyday stressors.
Learn More about Dr. Jessica Wendling
Private / Employer Insurance Plans:
Regence / Blue Cross / Blue Shield
Premera Blue Cross / Lifewise
Anthem / Uniform
Molina Healthcare of Washington Marketplace
Medicaid / WA Apple Health Plans:
Molina Healthcare (not accepting new patients)
Direct Pricing, Senior, Student, and Military discounts available
Schedule online with Dr. Jessica Wendling to establish care, or learn more about LENS Neurofeedback