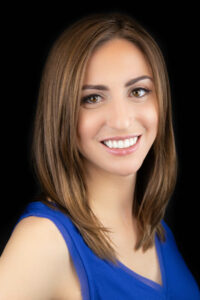 Dr. Jessica Wendling specializes in treating autoimmune disorders, digestive health, sleep disorders, and mood disorders. She is trained to use Mind Body Medicine, Biofeedback techniques, and physical medicine techniques to alleviate and improve various health conditions. Oftentimes, people experience trauma or major events that end up affecting every aspect of their life. These stressors can cause us to develop unhealthy patterns, lead to disease, and negatively affect our entire well-being. It is Dr. Jessica Wendling's great passion to restore function and harmony to the bodies, minds, and lives of her patients.
Her unique LENS neurofeedback therapy uses brain-mapping EEGs to find dysfunctional brainwave patterns that is manifesting in patients. She then uses the findings to design individualized Neurotherapy treatment plans to help her patients recalibrate their patterns and develop more functional patterns. Additionally, Dr. Jessica Wendling offers hands-on craniosacral therapy to further augment the state of balance created with neurofeedback therapy.
Education and Experience
Dr. Jessica Wendling graduated with honors from Central Michigan University and worked as an exercise physiologist at Beaumont Hospital before pursuing her medical degree at Bastyr University. After earning her Doctorate of Naturopathic Medicine, she went on to receive advanced training in biofeedback and LENS neurofeedback. Along with her extensive education, Dr. Wendling also has experience working in diverse clinical settings including hospitals, community clinics, and oncology research clinics, along with international outreach sites as the former president of the Seattle chapter of Natural Doctors International.
Dr. Jessica Wendling believes in curing disease by offering something beautiful in its place. She finds beauty and strength while hiking with her German Shepard dog, sharing meals with her friends and family, and creating states of flow.
Dr. Jessica Wendling was voted Seattle Met Magazine Top Doctor in 2019
Conditions Treated
Conditions she treats:
Severe brain injuries (TBI, concussion)

ADD/ADHD

PTSD

Depression

Anxiety

Fatigue

Lack of motivation

Sleep disorders

Seizures

Fibromyalgia

Migraines and severe headaches

Substance abuse

Memory issues

Other brain-derived behavioral problems.