What is Biofeedback?
Learn How Biofeedback Can Help Improve Your Health
Improving the awareness of body sensations is key to making a change in our health. Biofeedback aids the user to become more aware of how life influences our health and well-being. Chronic nervous system activation through classic stressors, triggers, trauma, and day-to-day living, can consume our attention and focus, and we soon lose a sense of control of our senses. Maybe our heart pumps faster or harder, our mind races on thoughts of the day, or tension in our body that becomes more than we can handle.
Utilizing biofeedback sensors including heart rate, respiration, muscle tension, sweat response, and temperature, we can increase our awareness of when we are stressed or relaxed. In turn, helping us understand how our body is responding to stress and how it fits with other symptoms or diseases, we are addressing.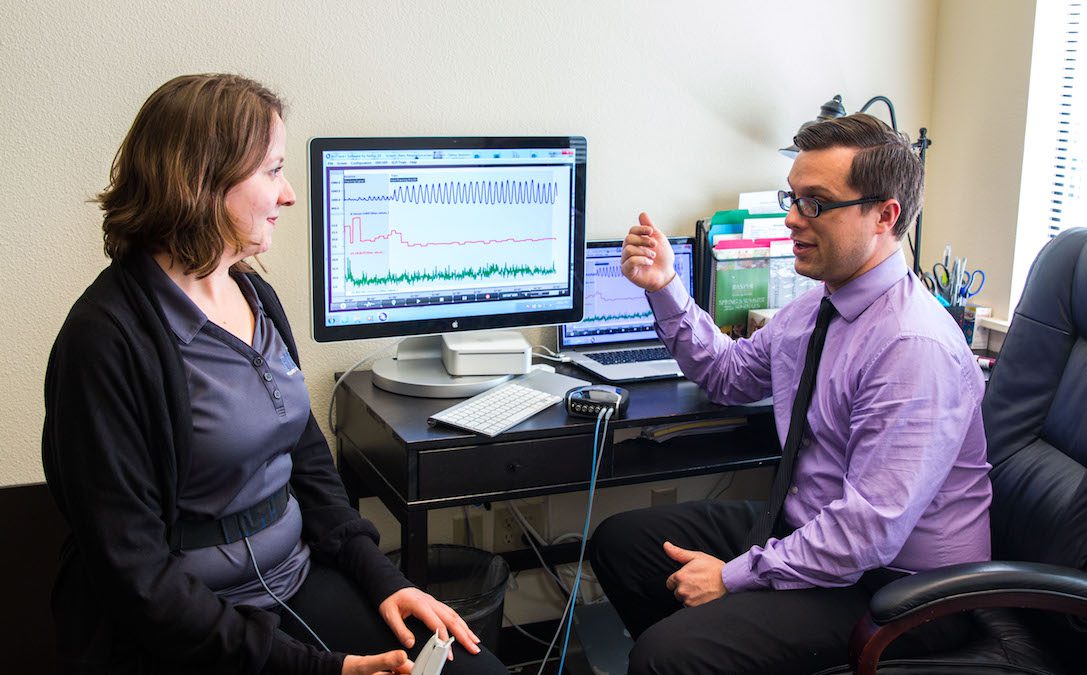 Examples of How Biofeedback Sensors Improve Various Health Conditions
Heart Rate Monitor – Hypertension, palpitations, general stress response
Respiration Sensor – anxiety, asthma, IBS, Hypertension
Temperature Sensor – cold hands or feet, raynauds, IBS
Sweat Response – Nervousness, anxiety, mind racing
Muscle Tension Sensor – Chronic Pain, Headaches, migraines
Biofeedback Practitioners
 Rebel Med NW biofeedback practitioners provide an integrative approach to build awareness about your stress response and use Biofeedback to improve your emotional intelligence and your stress resiliency, so we can all have better relationships with ourselves, our co-workers, and our partners.
3 Sessions
Great for stress awareness, mindfulness training,
or Breath Training
3 training visits
Customized treatment plan
10% Savings
See real results!
5 Sessions
Great for improved awareness, breath training
Long term anxiety / stress management
5 training visits
Customized treatment plan
15% Savings
Achieve lasting results!
8 Sessions
Long term control of Hypertension, Migraines,
Optimal stress resiliency
8 training visits
Customized treatment plan
20% Savings
Optimal results!
Stress & Relaxation Test
$125 Introductory Offer
Initial stress assessment and recommendations for training
Learn how your heart rate is influenced by stress and relaxation including heart rate variability training
Learn how breath training can balance your nervous system and heart rate
Learn how to train your body & mind for focus, energy, and improved mental health
Visits are based on 50-minute training sessions depending on condition, training, and practice. A package discount is applied if the package is purchased at the initial visit. Per visit, pricing applies of $175.00 for Biofeedback service pricing based on 30-45 minute visit length. If the visit length is 46-60 minutes price adjusts to $225.00 per session. Time of service as a non-covered service is $125 add-on to a regular naturopathic 30-minute office visit.
Cash, Debit, or Credit accepted. Payment plans are available if half of the package is purchased at the time of the first visit.
Insurance:
In some instances visits can be billed to insurance as an office visit and additional biofeedback procedure codes for certain diagnosis codes, please talk to our front desk staff if you would like to use your insurance if you have coverage for Naturopathic Benefits or biofeedback. Price may vary depending on the patient's insurance deductible, copay, and plan benefits. The patient is responsible for understanding their insurance benefits for all covered and non-covered services. Sliding Scale available if income is below 200% of poverty guidelines, Washington Apple Health Medicaid client waiver required, Please contact 206–297–6013 if you have any questions.