Rebel Med NW 5 Year Anniversary Open House:
Celebrating Good Health and Local Spirit
Networking Event
July 14th, 2023 – 1:00pm-6:00pm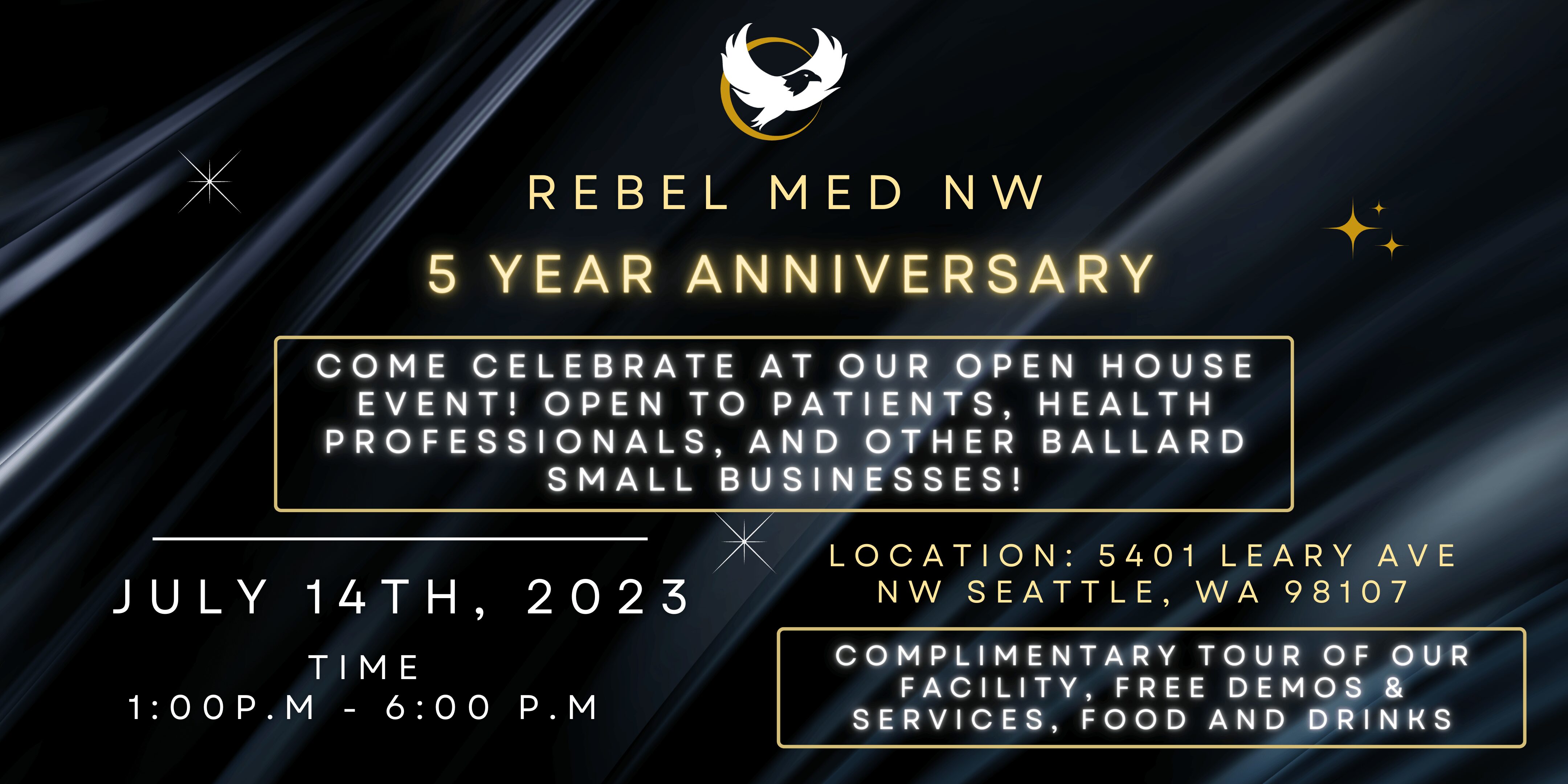 Celebrating Good Health and Local Spirit – Open House at Ballard's Premier Functional & Integrative Medicine Center
You're invited to an Open House at Ballard's top-rated Integrative & Functional Medicine Center, a vibrant local business owned by a dynamic husband-and-wife team. This networking event is open to the public, health care practitioners and local small businesses in Ballard.
Dedicated to community, exceptional service, and providing unique, integrative healthcare options, our center is a proud cornerstone of Ballard's thriving local scene. With a diverse offering of naturopathic care, acupuncture, mind-body medicine, physical medicine care, and integrative aesthetic care, we're at the forefront of holistic healthcare innovation with the launch of our new integrative concierge membership model.
Join us for a day of celebration, community, and health!
**Event Details:**
Date: July 14th, 2023
Time: 1pm-6pm
Location: Rebel Med NW
5401 Leary Ave NW, Seattle, WA 98107
Learn more about Rebel Med NW
Our Rebel Med NW 5 Year Anniversary Open House will feature informative and interactive sessions on our various services, giving you a sneak peek into our unique healthcare approach. Whether you're intrigued by the ancient wisdom of acupuncture, seeking to explore the connection between mind and body, or interested in our integrative aesthetic care, we promise an enlightening and engaging day with some of Seattle's top healthcare providers.
Network with Our Team
Meet our dedicated team and learn why we've been voted Seattle Met Top Doctor 7 years in a row. As a family-owned business, we place our customers at the heart of everything we do. On this special day, you'll see firsthand our commitment to personalized service, community care, and innovative healthcare solutions that use an inclusive approach to healthcare. We care deeply about our ability to use the best, researched and evidenced based approach to medical and wellness care.
Snacks, Drinks, and Demos
Enjoy local treats, healthy refreshments, and great conversations as you learn more about our passion for integrative health. Get to know us, our philosophy, and how we're redefining healthcare one patient at a time. It's our way of saying thank you to Ballard for embracing us, and an opportunity for us to give back to this fantastic community.
Whether you're a health enthusiast, curious local, or a long-time patient, we warmly welcome you to join us. Come celebrate our collective journey towards better health and a vibrant local community.
Together, let's continue to make Ballard a healthier, happier place as we all strive for a thriving community!
RSVP today and mark your calendars for a day of health, community, and celebration! See you at the Rebel Med NW 5 Year Anniversary Open House!
Come experience Free Demos of Emsculpt NEO at the BTL Bus Tour for EMSCULPT NEO uniquely at our office from 2:30-5:30pm during our Rebel Med NW 5 Year Anniversary Open House.
FREE At the Event:
Complimentary Snacks & Beverages
Get to know your Rebel Med provider and all the wonderful services we have at our office
Complimentary Demo's of Emsculpt Neo (please Register in advance to schedule a complimentary demo!
Launch party exclusive package Savings
Learn about our referral maintenance program
Learn about the Launch of Rebel Med NW's Membership Program