Seattle Met Top Doctor 2018
Dr. Andrew Simon – Rebel Med NW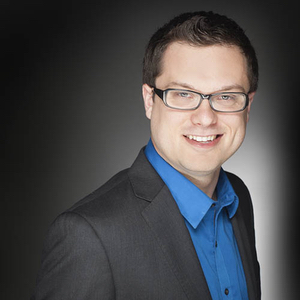 Seattle Top Doctor 2018 – Seattle Met Magazine
Rebel Med Northwest is excited to announce that Dr. Andrew Simon was voted Seattle Top Doctor 2018 in Naturopathic Medicine by Seattle Met Magazine. This is the 2nd year in a row that Dr. Andrew Simon was voted by the medical community by his peers, and will be featured in the August 2018 issue of Seattle Met Magazine. Rebel Med NW (formerly Fit Naturopathic) has seen tremendous growth in 2017 and 2018, with the additions of providers expanding services in Mind Body Medicine, cardio-metabolic health, women's wellness, physical medicine, mind body medicine, and other functional and integrative therapies. Check out last year's article on Dr. Andrew Simon voted Seattle Met Top Doctor in 2017.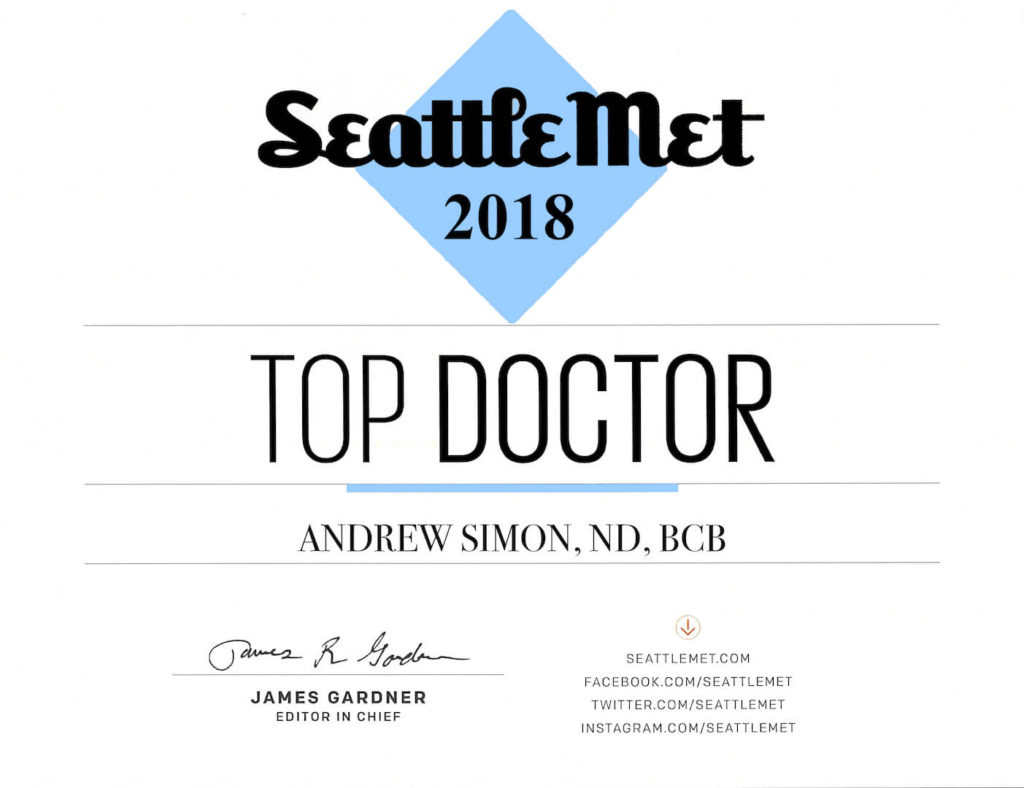 Dr. Andrew Simon graduated in 2013 from Bastyr University in the Naturopathic Medicine Doctorate program completing his CNME Residency in 2014 from Bastyr Center for Natural Health.  He continues to supervise student clinicians in the Physical Medicine Department and the Ballard North West Senior Center, as well as adjunct faculty in the School of Naturopathic Medicine. Recently receiving a 5-year service award for his contributions as a faculty member.
Graduating from Western Washington University in 2007 with a B.S. in Exercise Science, he often worked with various chiropractors to learn more about the complementary and alternative medicine field.  Additionally, working in the Wellness Outreach Center for WWU's Peer health Advisor program, and was a lead chef at a local restaurant while in school.
Biofeedback & Mind Body Medicine Seattle Top Doctor 2018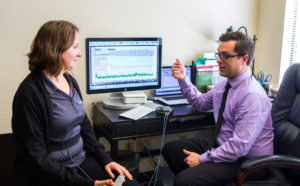 Dr. Andrew Simon has been voted as Seattle Top Doctor 2018 for his continued care in the integration of Mind Body Medicine with his approach to functional & integrative medicine. Finding that many common health conditions can reduce their complications by reducing the contribution of stress, anxiety, and depression and other behavioral health conditions. Utilizing a combined cognitive behavioral therapy, mindfulness practice with breath work, and his training as a board-certified biofeedback therapist many patients become more resilient to stress, and able to make the more sustainable decisions for their health.  The latest in research on heart rate variability training, as an objective approach to improving resiliency towards stress. Dr. Simon has found that by supporting mental health awareness, improving skills of relaxation, patients often find themselves improving their approach to health and wellness, and can maintain their health easier without medications and even dietary supplements. Dr. Andrew Simon is a BCIA certified biofeedback provider and supervising physician at BCNH in Mind Body Medicine treatments.
Seattle Top Doctor 2018 – Physical Medicine: Naturopathic Spinal Manipulation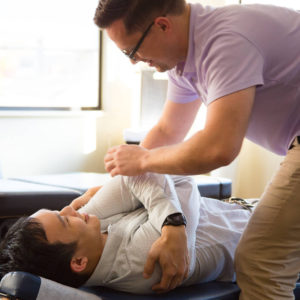 Trained by Seattle Top chiropractic providers, previous Seattle Top Doctor naturopathic physicians, Dr. Andrew Simon and his Top Naturopathic Doctor team at Rebel Med NW provide a unique approach to spinal manipulation by integrating philosophy of physical therapy and philosophies of osteopathic medicine, and chiropractic care to find the best tool to functionally improve posture, injury reduction, and improve exercise and training performance for Seattle's fitness community.
Cardiovascular & Diabetes Health – Seattle Top Doctor 2018
Dr. Andrew Simon integrates his background in exercise science, exercise physiology and nutrition along with his work as a naturopathic physician to help support his patients lower blood glucose, reduce inflammatory risks associated with cardiovascular disease, and improve the health and wellness of many of his clients. Many patients of Dr. Andrew Simon have successfully reduced their requirements for insulin, blood pressure medications, and improve their overall energy at the same time. As a physician, it is important for Dr. Andrew Simon to work closely with major medical centers including Swedish Medical Centers or University of Washington Medical Centers earning him his reputation for Seattle Met Top Doctor for 2 years in a row. Dr. Andrew Simon also has a great referral system with other top doctors in primary care or specialty naturopathic medicine services.
Source: Seattle Met Top Doctor 2018
Seattle Top Doctor: Dr. Andrew Simon on Social Media:
Follow Dr. Andrew Simon on, Google+, Twitter, Facebook, Youtube, and Instagram.