Seattle Met Top Doctor 2022
Seattle Met Top Doctor 2022 – Rebel Med NW Providers win Top Doctor Award

We are excited to announce that 4 team members at Rebel Med NW have won Seattle Met Magazine's Top Doctors 2022 award. Click below to learn more about their personal story and why they were voted by their peers with Seattle Met Magazine as Top Doctor 2022 for both Naturopathic Medicine and Acupuncture/East Asian Medicine. They also happen to be our team of providers that recently had a successful launch of Rebel Med NW's newest service, RF Microneedling in Ballard.
East Asian Medicine & Acupuncture Team Members:
Dr. Phonexay Lala Simon EAMP, DAOM, LAc – Seattle Met Top Acupuncturist 2022
Khairul Bhagwandin EAMP, LAc – Seattle Met Top Acupuncturist 2022
Naturopathic Primary Care Physicians:
Dr. Kathy Severson – Seattle Met Top Naturopath 2022
Dr. Jessica Schule – Seattle Met Top Naturopath 2022 (recently joined Seattle Indian Health Board)
Rebel Med NW Practitioners voted Seattle Met Top Doctor 2022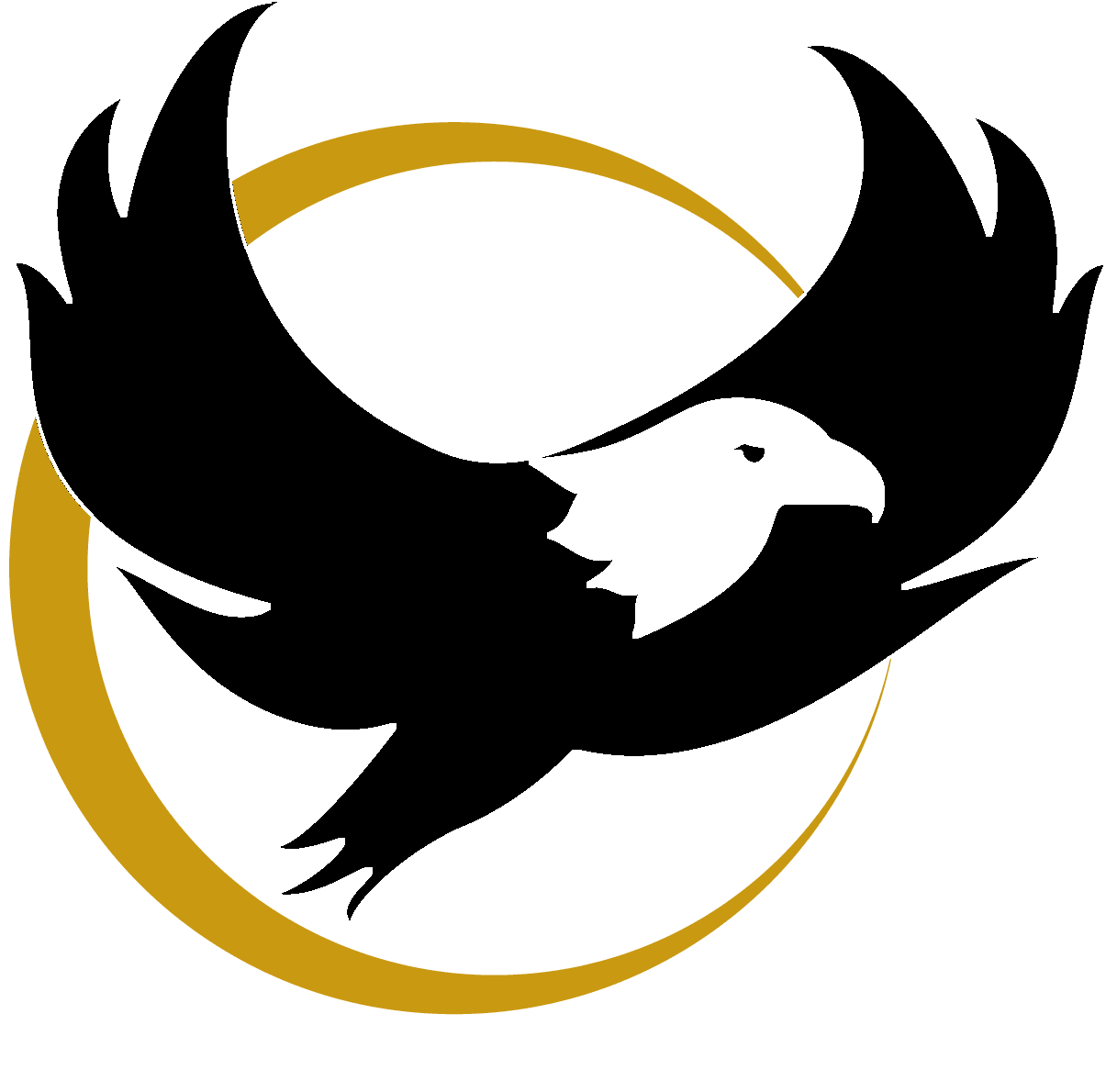 Rebel Med NW is a concierge integrative medical clinic located in Ballard, Seattle, WA. While we call ourselves Rebels, we really care about finding the best approach to primary care, wellness, prevention, and mind body medicine we can take that brings medicine back to the people for what they really need. To feel good, have the energy they need to live their day. To be more resilient to the changing world that presents to each of us on a daily basis. Just like our practitioners, our patients come from diverse and unique backgrounds seeking to improve their mind and body with an integrative approach to care.
Find us in Ballard, Seattle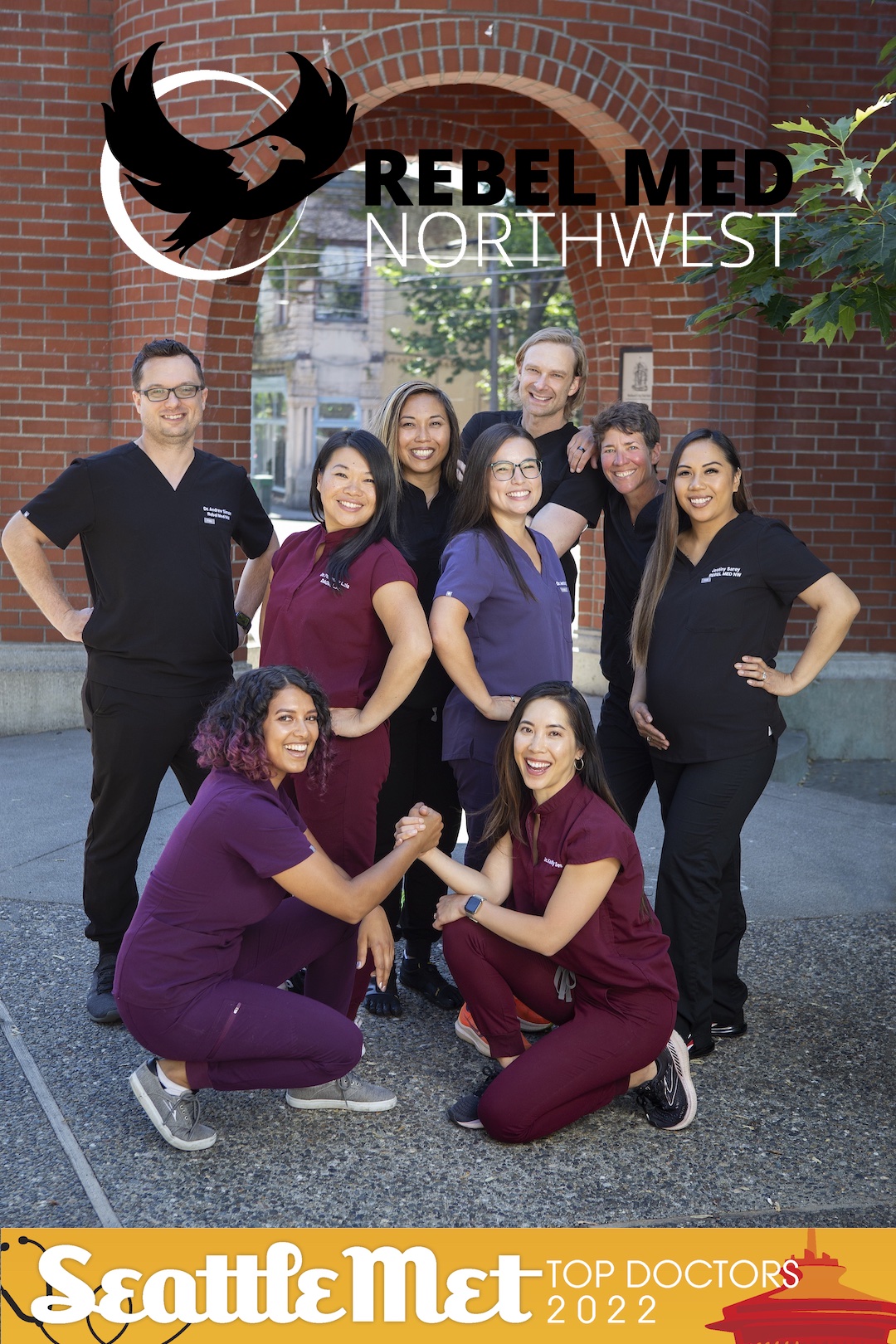 Dr. Kathy Severson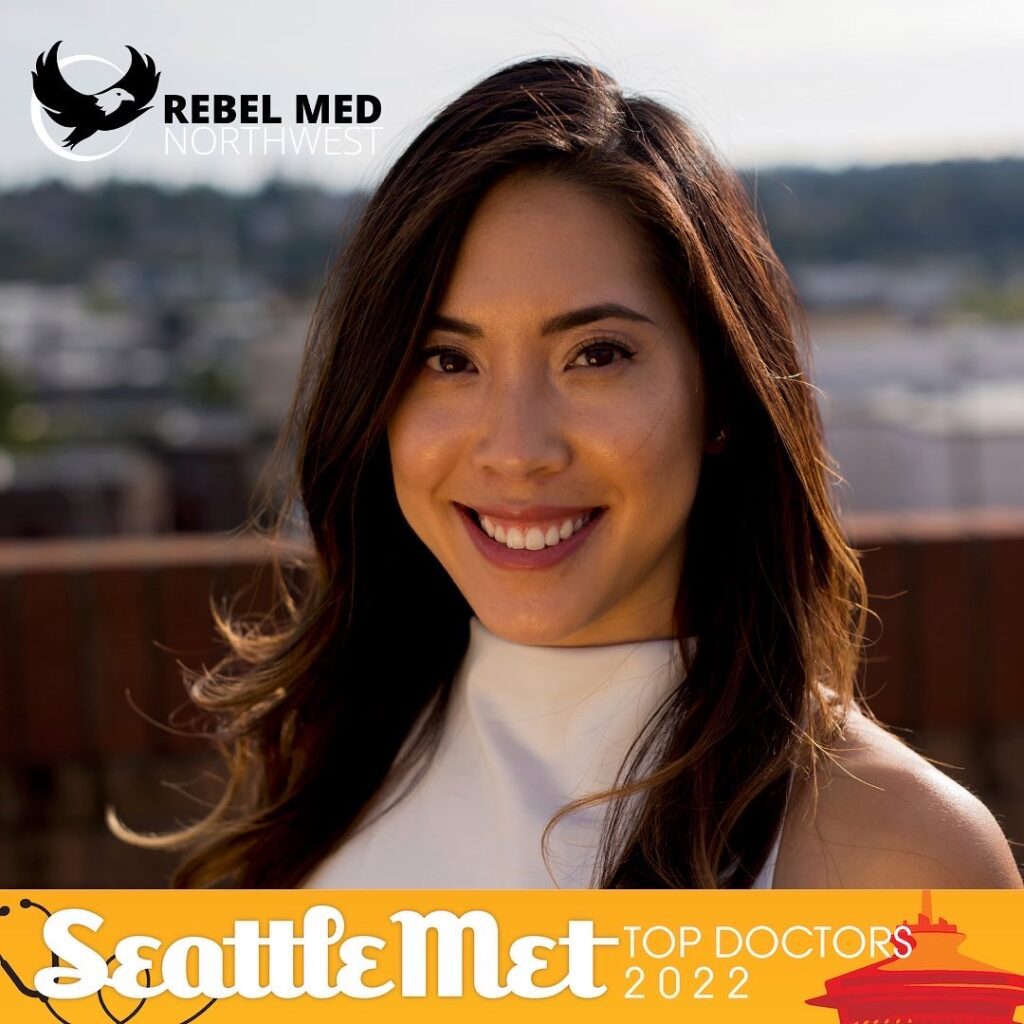 A practitioner that centers their patients with direct and informative education around physiology and mental health. Dr. Kathy Severson practices primary care medicine with specialties in the gut, skin, and mental health connection. An avid participant of food, culture, and sunshine, Dr. Severson encourages healthy lifestyle and behavioral choices that improve our health and wellness sustainably through healthy diet & nutrition, exercise, and mental health care.  Her latest passions have been exploring natural and regenerative approaches to dermatology, skin care & hygiene, and it's role in maintaining healthy detoxification.
Dr. Kathy Severson is a graduate of Bastyr University, earning her doctorate degree in Naturopathic Medicine, completed her AANMC CNME Accredited Residency in 2021, and going on to become a lead physician at Rebel Med NW. Assisting the clinic during a crucial time of the covid-19 pandemic with implementation of covid-19 vaccines, testing, and telemedicine operations. Recently finishing her role as Chief Resident at Rebel Med NW, where she supported the residencies of Dr. Jason FauntLeRoy, ND and Dr. Kristin Barnes, ND, LAc.
With years of experience in biofeedback and counseling, Dr. Kathy Severson has been able to regularly support many of the mental health challenges her patients have transitioned through during the pandemic, as she regularly teaches how to learn to become more resilient and proactive in our health every day. Learn more about Dr. Severson.
Dr. Phonexay Lala Simon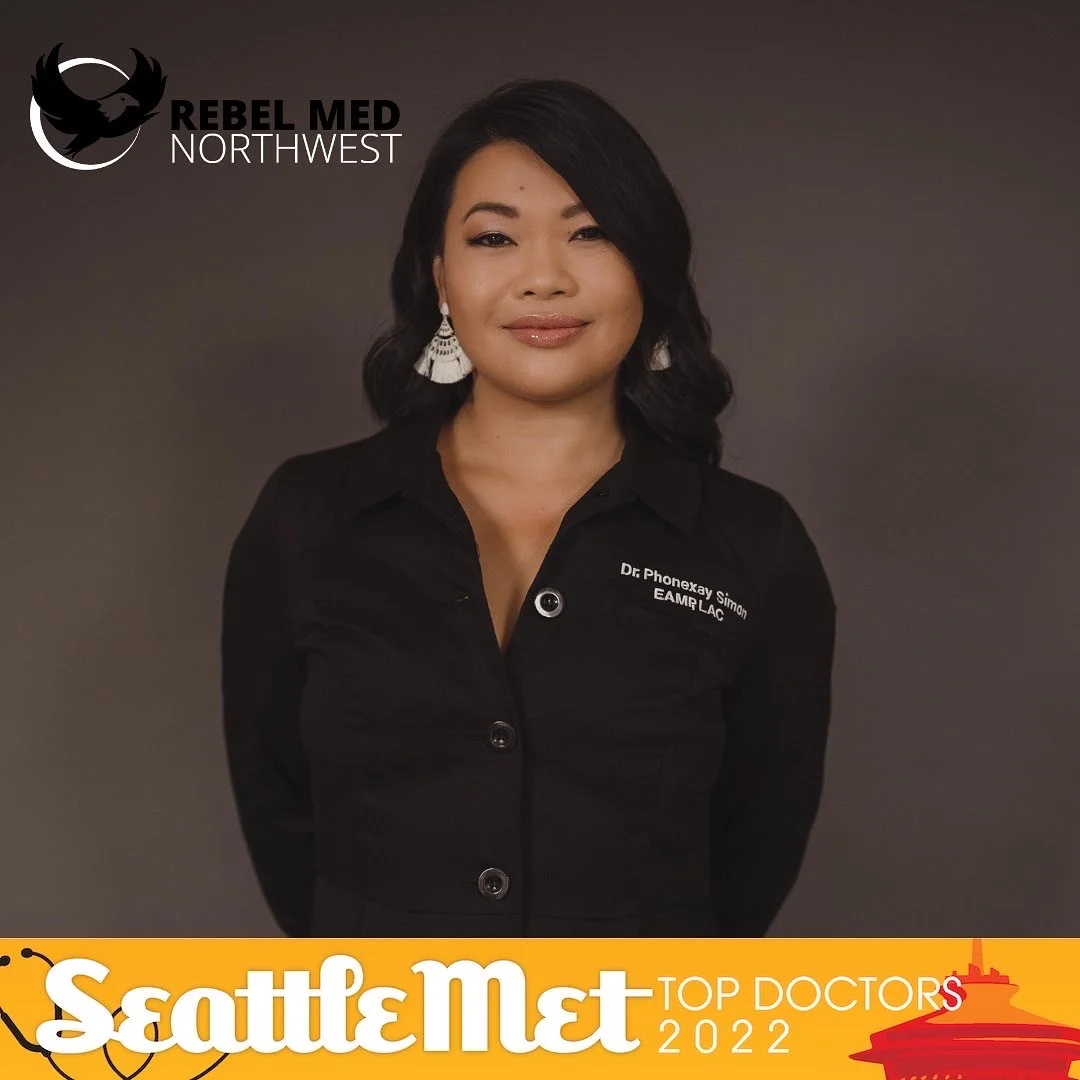 Rebel Med NW, Clinic Founder and Acupuncture Director at Rebel Med NW, Dr. Phonexay (pronounced fawn-say) has developed a truly unique experience for her patients by blending both an understanding of psychology, internal medicine, and musculoskeletal medicine through the application of Traditional Chinese Medicine, traditional 5 element principles, and energetic/spiritual acupuncture through both her masters studies at Bastyr University in Seattle, WA & and her Doctorate training at the Oregon College of Oriental Medicine in Portland, OR. She additionally studied in China and Nepal applying her skills in both traditional Chinese hospital settings and the rural villages in the mountains of Nepal with the Acupuncture Relief Project.
Dr. Phonexay Lala Simon, has been able to work in many different acupuncture settings including her work with Tyler Martin, LAC of Fit Acupuncture, and her time with the community acupuncture clinic The Pin Cushion in the capitol hill neighborhood of Seattle. Her unique perspective allows many of her patients to walk out of a treatment with an all new sense of balance, recharged energy, and relief from the stresses & aches of our day. Frequently working with physical therapists at IRG Center for Structural Medicine, Therapydia, and Therapeutic Associates, Dr. Phonexay supports the recovery of many Seattle residents as they look to return to more functional and stronger state of wellness. Her work with traditional MD's, and care providers at One Medical, or Seattle Reproductive Medicine for example, complements the already integrative approach she practices with the naturopathic physician team at Rebel Med NW.
As part owner for Rebel Med NW, with her partner, Dr. Andrew Simon both residents of Ballard, Dr. Phonexay is determined to improve the health and wellness of the community by offering a spectrum of care options to all income groups seeking care from Chinese Medicine and Acupuncture as she works along side Dr. Kristin Barnes, ND, LAc whom has completed their year of residency at Rebel Med NW and providing integrative acupuncture and Chinese Herbal Medicine.
Khai Bhagwandin, EAMP, LAc
Khai has been a part of Rebel Med NW as Foxglove Acupuncture since 2019. Regularly bringing a combination of sports medicine, stress reduction, and consistent acupuncture and bodywork to her patients to help them continue to live an active and fit lifestyle.  As and avid semi-pro snowboarder Khai and hiker in the Pacific NW, Khai regularly finds balance in her work by recognizing the importance of fitness, nature, and mental health advocacy. Khai also leads our regenerative and cosmetic dermatology programs with acupuncture, injections, nano needling, microneedling, and the recently added Potenza RF Microneedling treatment at Rebel Med NW, along with Dr. Kathy Severson, and Dr. Phonexay Lala Simon.
Growing up in the foothills of Mount St. Helens in Washington and later receiving a Bachelor's degree in Environmental Science at WWU's Huxley College. Khai later, attended Bastyr University for a Masters of Science in Acupuncture and Oriental Medicine, allowing her to pursue what she is passionate about – helping people keep their body's active and healthy.
Using a multidisciplinary approach in building a personalized and effective treatment for each patient. Khai uses a combination of TCM acupuncture, injection therapy, bodywork therapies such as massage and cupping, lifestyle and diet counseling, and Chinese herbal medicine to help optimize the health of her clients. By combining multiple techniques to create her own unique and effective modality. Seattle Met Top Acupuncturist Khai Bhagwandin is a great example of the evolution of acupuncture as a healing art.